'Everyone is working out at the gym!'
July 4 city council wrap-up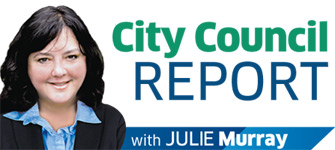 Mayor Maxime Pedneaud-Jobin opened the city council meeting, July 4 at city hall in Hull, by pointing out that the people, through a registry, had demonstrated support for the Robert Guertin Arena project. The mayor also mentioned MosaïCanada, an exposition in Jacques-Cartier Park paying tribute to Canada's multicultural heritage, created to celebrate Canada's 150th birthday. "We had people from Ontario visit; they were all impressed," including the premiers of Quebec and Ontario.

Councillor Mike Duggan encouraged council to vote against allowing a pharmacy on Front Street, north of Allumettières. "I encourage you to vote against this. There are already traffic problems; it will be near the des Tournesols primary school." He announced that a new primary school will be built in northwest Aylmer, set to open in the 2018-2019 school year. It will be located near Antoine Boucher park.

Councillor Duggan thanked people, such as Stephanie Crowley, who worked hard on Aylmer's celebration of Canada's 150th birthday. He invited people to visit Aylmer for events such as the Auto Show, the farmer's market, and the festival de la Rue Principale. "The party continues in Aylmer!" Councillor Jocelyn Blondin invited people to Moore's farm, which has local products, fruits and vegetables for sale. Councillor Louise Boudrias congratulated her peers for voting for the sale of land that will accommodate a health clinic.

Councillor Sylvie Goneau expressed support for speed reduction measures on Boulevard Lorraine, while Councillor Jean-Francois Leblanc said that the addition of 40 new spaces at the Hull Marina will boost tourism.

During Question Period, several people turned out to request help because their homes were hit by the historic floods this spring. Stéphane Renaud said, "In the past, they built a dyke to stop flooding in Hull. I protest the inequality," he said, arguing that nothing has been done in the Gatineau sector; he worried about Highway 50 and a local street. "Every spring, on rue Saint-Louis, there's water. What's good for Hull is good for the rest of Gatineau."

Several turned out to question whether or not it was a good idea to approve a seniors' home at the corner of Boulevard de l'Europe and du Plateau. "This violates our urban plan; there is a bike path there. The seniors' home will draw traffic that will imperil the safety of our children."

Robert Guertin Arena

Many discussed the replacement of the aging Robert Guertin Arena, a facility that is over 50 years old. The province adopted Bill 227, which led the way to a five-day registry on the issue. Ultimately, the people approved the project, which will see a new four-rink skating complex constructed; one rink will house the Olympiques, while three rinks will serve community purposes. However, some people were upset at the manner in which the deal was reached and wanted more transparency, such as a tender call instead of a private deal.
In her opening remarks, Councillor Denise Laferrière said, "Bill 227 will allow Gatineau to move ahead with Vision MultiSports Outaouais on this project. I have lodged a protest; I am not happy with the process. In a democracy, we need to listen to dissenting voices."

'Let's get physical!' Seniors, teens…they all want gyms!

Dozens of people supported keeping the new Sports Centre open. Citing lowered membership and the cost—about $60,000 annually—of keeping the centre open, the city has decided to close it down. Spokesperson Sylvie Lauzon, submitted a petition signed by 265 people asking the city to maintain the service. "This is a multi-generational space, with opportunities to get in shape, improve strength and cardio-vascular functioning. Children go to gymnastics classes; their parents can visit the nearby library. This service exists only in this sector. Think about the human benefits. In fact, come visit and exercise with us!"

Claude Chenard focused on the importance of exercise in physical and mental health, particularly with the aging population. "This is a basic service. We have a lot of young families and children (exercising side by side) with seniors. There is a real sense of community there." Another person suggested partnering with community organizations and the STO to increase participation among lower-income Gatineau residents and conducting an awareness campaign to attract potential exercise devotees.

Agreeing, Councillor Daniel Champagne said, "We need to change the perception that the gym is for people who are already in great shape." He added, "Health is a priority for Gatineau. It is a decision that seems cold, but we need to look at the private sector for help." He announced a meeting on July 19 regarding the problem.

Several young people from Ado-Jeunes again asked the city for basement space for their youth centre. Last fall, Gatineau denied their request for space and funding, so the young people took action. "They managed to secure a $22,500 grant from the Table d'Education de l'Outaouais." Cédric Chartrand noted, "After we were turned down last November, we worked hard. This will give us space for our Sports-Ado gym and a reading corner." Another pointed out that those between 12 and 17 could use the facility for free. "It would be nice to have a reading corner to get away and have privacy."

"Lots of teens feel shy working out next to adults," said a young woman, adding, "This will get us off the sofa and our telephones."

Parents spoke up too. "(The) Touraine (sector) has always had a strong community spirit. Ado Jeunes is no different; they organize garage sales and events, just because they want to help their fellow citizens." Another mother said that parents want to help make the project a success.
Councillor Denis Tassé said he was excited to see how Gatineau's young people are committed and involved, overcoming obstacles to their vision. And Councillor Champagne commented, "It seems everyone wants to work out at a gym!"