Pedneaud-Jobin re-elected with a second minority

Bulletin Staff

Incumbent Maxime Pedneaud-Jobin won the Mayoral race in Gatineau on November 5. His closest rival was former councillor Denis Tassé, followed in order by Sylvie Goneau, Clément Bélanger and Rémi Bergeron. This will be the leader of Action Gatineau's second term in office with a minority council. His party ended the night with six council seats plus the mayoral seat, compared to five seats in the past council.

Aylmer says no to Action Gatineau

In Aylmer District #1, Audrey Bureau convincingly won her first municipal election with a considerable majority, over 75% of votes going her way. François Sylvestre, the Action Gatineau candidate, finished second with almost 20%, followed by late-starter David Inglis who obtained under 4%.
Outgoing councillor Josée Lacasse did not run.

In Lucerne, District #2, four candidates, three of which were independent, were attempting to claim the seat vacated by Mike Duggan, who ran in the Deschênes Ward. Former school commissioner Gilles Chagnon (41.95%) took the seat against Véronic Boyer (34.53%) from Action Gatineau, Mamadou Garanké Bah (17.55%) and Roch Givogue (5.97%).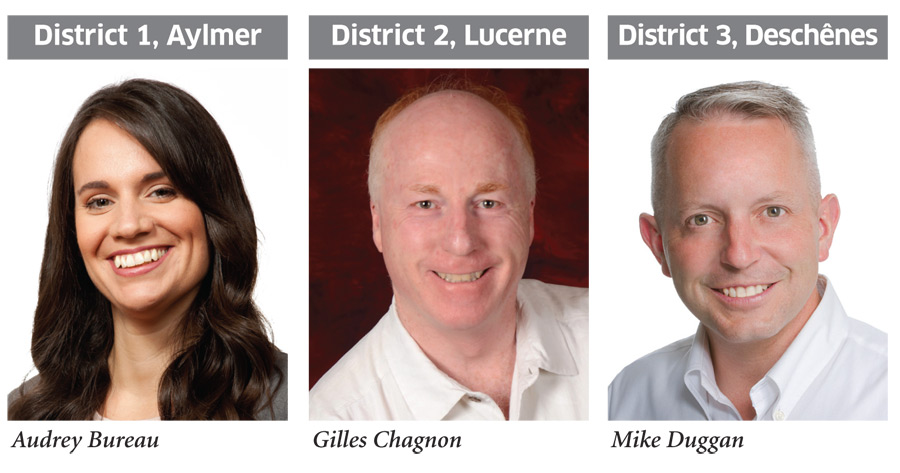 In the Deschênes, District #3, the most anticipated race in Aylmer went down to the wire between outgoing star-candidate of Action Gatineau, Richard M. Bégin, and independent Mike Duggan, who took a big gamble changing wards. Duggan's bet paid off as he defeated the outgoing and popular Bégin. The final result was convincing, 53.14% for Duggan and 46.86% for Bégin.

This result will surprise many, since Mr. Bégin was chair of the important urbanism (planning) committee – and other posts in the first Pedneaud-Jobin administration -- and was a city-wide spokesperson for the Action Gatineau party.

In the Plateau, District #4, Maude Marquis-Bissonnette, running for the party, was the sole candidate after her opponent Patrick Doyon dropped out following allegations of improper behaviour in his past. Outgoing candidate Maxime Tremblay did not run.