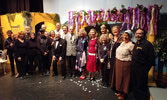 Aylmer Community Theater Company returns to live in-person performances

Sophie Demers
After nearly three years without in-person live performances, the Aylmer Community Theater Company (ACT Company) will return this fall with their production of Neil Simon's Barefoot in the Park.
ACT Company was created by a group of like-minded individuals in Aylmer who banded together to create the community theater group approximately 15 years ago. Since then, they have presented many performances. They formed a close relationship with the local English high school Symmes D'Arcy and regularly performed in the school's auditorium.
For the last few years, the Covid-19 pandemic put a halt to in-person gatherings, but that did not stop ACT Company from gathering virtually. During the pandemic, they were able to do many readings, comedies, and dramas virtually, with a few of their core members to keep the company going and to bring people together.
Last October, they practiced It's a Wonderful Life, hoping to perform it live, as pandemic restrictions had eased slightly. The plan was to present it at the Aylmer United Church but, unfortunately, the Covid restrictions changed and they had to cancel. They pivoted very quickly and used a filmographer to film them performing and were able to provide that version of their show to their audience to watch from home.
New performance location
Peggy Henderson, a founding member of ACT Company, told the Bulletin that, as Covid-19 restrictions eased, they quickly realized that their usual performance location, D'Arcy McGee High School, would continue having restrictions as they regroup from the on and off Covid-19 safety measures.
The group then had to find a new home base for their performance. Henderson told the Bulletin they are excited to announce that their upcoming fall 2022 performance of Neil Simon's Barefoot in the Park will take place at Heritage College. The CEGEP is about a 10-minute drive from their previous location.
"We are thrilled. Heritage could not have been more welcoming," said Henderson. "We are now in production for our upcoming performance in October, Barefoot in the Park, directed by Jackie McKeown."
Residents can look forward to seeing many family faces in the upcoming production from both Aylmer and Ottawa. ACT Company officially starts rehearsal this week. Opening night will be October 20 at 7:00 pm, followed by another evening performance on October 21 and a matinee on October 22.

Photo: Courtesy of ACT Company
Photo: April 2018, Cast and crew for the ACT Company's production of Enchanted April.