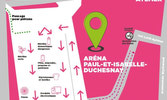 Aylmer residents will get three mobile ecocentres to dispose of excess waste

Sophie Demers
Gatineau has announced three dates for upcoming mobile ecocentres. For the Aylmer sector there will be a mobile ecocentre on April 30, June 18, and October 1. They will take place from 9 am to 3 pm in the parking lot of the Paul-et-Isabelle-Duchesnay arena at 92, rue du Patrimoine. Residents can access the site through the Wychwood promenade.
Residents will be able to dispose of various materials such as hazardous waste (batteries, paint, used oils, aerosols, and fluorescent bulbs), electronic products, tires (maximum of 12 per visit), styrofoam, green waste, and clothing or textiles in good condition.
In order to make the process quicker all materials must be sorted before arrival, residents are responsible for manually unloading their materials, and attenands are able to refuse any load of material that has household garbage in it or materials that are not accepted.
The mobile ecocentres are for Gatineau residents only. Proof of residency will be required. Commercial vehicles or contractors accompanied by a resident will be refused.
Gatineau notes that mobile ecocentres are not for bulky waste such as wood or metal. The next bulky waste collection will take place on May 2 in the West of the city. Gatineau recommends consulting DTRITUS application to get more information about collection days and how to dispose of materials.