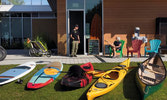 Canoes, kayaks and paddleboard rentals free with an Accès Gatineau + card

Greg Newing
Those looking for water activities this summer can rent a canoe, kayak or paddleboard from the Relais Plein Air rental station in the Robert Middlemiss Pavillion at Parc des Cèdres. These water activities are a great way to get some exercise and explore the Ottawa River's beautiful shoreline with friends and family. All equipment can be rented by individuals or families with children. Kayaks and paddle boards can be rented by ages 13 and up provided they have prior experience. Since the rentals are self-guided anyone renting water equipment from the Relais Plein Air must demonstrate that they have sufficient knowledge and prior experience with these activities before heading out on the water and must fill out a form disclosing any mobility conditions before renting. Paddles and lifejackets, which are mandatory to wear on the water, are also available on site and included in the rental.
For those interested in exploring Gatineau's many bike trails, there are also mountain bikes, tandem bikes, and e-bikes available for rent at the Relais Plein Air Parc de la Gatineau located at 397 Boulevard de la Cité-des-Jeunes. Equipment rentals at both locations are available from 10 am to 6 pm from Sunday to Thursday and from 10 am to 8 pm on Friday and Saturday. Canoes, kayaks and paddle boards can be rented for a full day and bikes can be rented for a maximum of 4 hours.
Equipment, with the exception of e-bikes, can be rented for free with an Accès Gatineau + library card. E-bike rentals are $40 per hour. To obtain an Access Gatineau + card visit any library in the city with a piece of ID and valid proof of address in Gatineau. For more information consult the Ville de Gatineau website at: www.gatineau.ca then click "Information and Services" and select "Accès Gatineau card". For regular rental costs for all equipment without an Accès Gatineau Plus card visit: https://boutique.relaispleinair.ca/.

Caption: Canoe, kayak and paddle board rentals are available at Relais Plein Air rental station in Parc des Cèdres. Photo: Relais Plein Air.