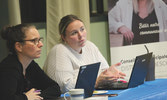 City councillor Caroline Murray consults constituents in Deschênes


More than a dozen Deschênes residents gathered at the André Touchet Community Centre on October 26, for a public meeting with Deschênes district councillor Caroline Murray.

Co-organized by the Deschênes Residents' Association (ARD), the Groupe Communautaire Deschênes (GCD), and Murray, the discussions were intended as an opportunity for residents to ask questions, share ideas and concerns on issues affecting their district.

Addressing matters like densification in old Deschênes, residential road safety, and one resident's solution to ecologically help avoid traffic congestion, reduce commute times, the event was conducted in an informal Q&A format, with Murray reading mailed-in questions, as participants chimed in and posed their own queries.

Concerned with possible impacts on traffic and public safety, and disappointed with the slowness in getting completed, several participants complained about a six-building, 30-unit affordable housing block being built on 34 rue Deschenes.

Under construction since August 2020, Murray said the project is expected to be delivered by March 2023. She added that a major reason for the delay in building it was due to a shortage in funding last spring, noting that the project is publicly subsidized via Habitations de l'Outaouais Métropolitain (HOM), not by the city.

With 18 more units planned to be built on the adjacent lot, 36 rue Deschênes, as part of a separate project, one resident argued that introducing almost 50 new housing units on the same part of the same street raises concerns with traffic.

Admitting that the project seems rather large for the size of its property, Murray said she worries about residents' quality of life in such a familial neighbourhood, expecting it to potentially result in a considerable lack of greenspace.

Murray added that she supports light and measured densification near major transportation arteries, noting that rue Deschênes is not one.

"For me, smart densification is ... to put it along chemin d'Aylmer," Murray said, highlighting the importance of thoroughly analyzing projects before approving them. "So people who live there can take the bus and don't increase traffic on roads that are already congested, and so that they can do their groceries on foot because they have storesbusinesses in close proximity."
"A project needs to be well thoughtwell-thought out for the future," she added. "It needs to integrate well with the Aylmer spirit, which is a communal spirit. Here I think people are very attached to greenspaces ... so I want to accept projects which respect that."

Stressing that the work has hampered circulation significantly already, one resident argued that the city also needs to put a sidewalk along rue Deschênes.

Another argued that the city should prohibit parking on both sides of rue Deschênes to make the street safer for pedestrians and children.

Murray replied that the city could build a sidewalk on rue Deschênes if it decides to re-pave the street, and if it deems its population sufficiently densified. She also noted that modifying its parking regulation is a sensible, affordable and feasible solution.
With significant infrastructural changes coming to Deschênes, resident Howard Powles told the Aylmer Bulletin that people are going to be forced to adapt to its evershifting setting.

"They're big changes, especially [on rue Deschênes]; there's going to be traffic; there are going to be kids in the streets," Powles said. "People are going to have to make adjustments for sure."

While not against densifying the neighbourhood, Powles said he's mainly worried about the approval of lofty projects that don't fit with Deschênes quaint aesthetics and don't conform to the city's zoning regulations, especially buildings that exceed legal height limits.

Noting that Aylmer has already achieved its projected population numbers of 2030, Murray told the Aylmer Bulletin that there are inevitably more residential projects to come.

She argued that the main issue with Aylmer's population boom is the lack of investments in local services, infrastructure and road repairs in the sector.

However, Murray continued, stating that the revitalization of chemin Vanier is a proper step in the right direction, noting that future construction projects on the street must include a commercial element on the first floor.

"I want us to be able to create a little village in Deschênes, kind of like it once was," Murray said.

Responding to complaints about speeding on boulevard Victor-Beaudry, Murray said the city recently conducted a 24-hour study to evaluate how fast cars are going on the street to see if it qualifies for a speed limit reduction.

She explained that for 40 km per hour streets, such as the one in question, the city can only implement speed moderation measures like speed bumps and bollards if the average speed is more than 15 km per hour above the limit.

Murray said the average speed on Victor-Beaudry was clocked at 13 km per hour over the limit.
"I would like for that gap to be reduced," Murray said. "Because there's quite a large gap. When we increase our speed, we know accidents become more and more deadly."

While the street did not qualify, Murray said the city conducted a second study, because public grievances on the matter persisted, and that results should be available soon.

She also encouraged residents with concerns about speeding on their streets to contact 311.

Residents also commented on the municipal protocol to obtain construction and demolition permits, arguing the city should expedite the process, making it more quickly responsive.

While touching on the impacts of the pandemic, Murray said the regional labour shortage certainly hasn't helped speed up the process.

One resident, Jean-Pierre Caron, proposed an idea to build a serpentine-pattern floating pedestrian bridge from Deschênes to Britannia to promote active transportation, cut down on commute times and reduce traffic. Noting a more accurate estimate should be made available in about a month, he said it would cost more than $25 million and take around five to 10 years to build.
Emphasizing the importance of meeting residents regularly to consult on their most pressing wants and needs, Murray said she appreciated the public's participation and plans on hosting more public discussions going forward.

A second citizen meeting was held on October 30.

Photo caption: Discussing a number of topics of local importance, around a dozen Deschênes residents convened at the André Touchet Community Centre on October 26 and 30 for a public meeting headed by Deschênes district councillor Caroline Murray. Photo: J-D Potié