BETWEEN A ROCK AND A HARD PLACE
Does 21 + 40 + 96 = Tyranny of the Majority?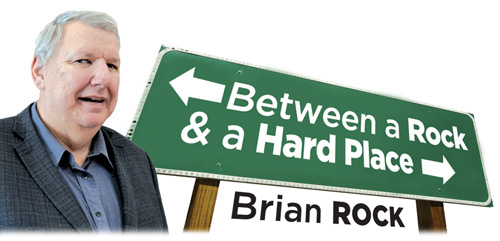 "They say if you don't vote, you get the government you deserve. . . And if you do, you never get the results you expected." ― E. A. Bucchianeri, author
In the provincial general election of October 1st, 2018, the Coalition Avenir Québec political party received 37.4 % of the votes cast. It is important to note that voter turnout was 66.45 %; meaning 33.55 % of the Quebecers eligible to vote did not bother to exercise that democratic right. Why are all these numbers so important?
What this means in a parliamentary system which we have with four political parties that win seats in the National Assembly of Québec, 37.4 % of the popular vote can and did result in the election of 74 seats of the 125 up for election. So in fact, 37.4 x 66.45 = 24.85 %, less than one quarter of those eligible to vote supported the CAQ which put into power a majority government with 59.2 % of the seats in the National Assembly of Québec.


"Democracy cannot succeed unless those who express their choice are prepared to choose wisely. The real safeguard of democracy, therefore, is education." - Franklin Delano Roosevelt, U. S. President

Why is this so significant? Well, a majority government controls the business of the National Assembly: with the perks of power including such measures as the introduction of government bills, the control of le bâillon (closure to limit and end debate), and the possible use of the Notwithstanding Clause to override sections of the Canadian Charter of Rights and Freedoms (1982), as well as the Charter of Human Rights and Freedoms of Québec (1975, chapter C-12), among others.
So we end up with pieces of legislation such as:
Law 21 - (2019, chapter 12) - An Act respecting the laicity of the State which was assented to on June 16th, 2019, AND
Law 40 - (2020, chapter 1) - An Act to amend mainly the Education Act with regard to school organization and governance which was assented to on February 8th, 2020, AND

Bill 96 - An Act respecting French, the official and common language of Québec which was introduced by M. Simon Jolin-Barrette, Minister Responsible for the French Language, during the 1st session of the 42nd legislature on May 13th, 2021 and was reinstated during the 2nd session of the 42nd legislature on October 20th, 2021.
So the next stage has begun with the clause-by-clause consideration of Bill 96 by the members of the National Assembly Committee on Culture and Education.
And on the very first day considering the Preamble to Bill 96, M. Pascale Bérubé, Parti Québécois MNA for Matane-Matapédia, proposes an amendment to add the word "seule" to the phrase "le français est la seule langue commune de la nation québécoise". And his amendment was adopted.

Demographic studies reveal that over eight million Quebecers speak French, but also that over 3.3 million Quebecers can also conduct a conversation in English with their neighbours. This shows clearly in the eyes of linguists at least, putting all political considerations aside, that Québec has two common languages: a strong secure confident common majority language that is French, and a viable common minority language that is English.

"The tyranny of the majority is an inherent weakness to majority rule in which the majority of an electorate pursues exclusively its own objectives at the expense of those of the minority factions. This results in oppression of minority groups comparable to that of a tyrant or despot." - John Stuart Mill, English M.P. and philosopher

My final appeal would be for everyone – including those in the House of Commons, the Senate, and the National Assembly of Québec, - to allow M. Raymond Théberge, the Commissioner of Official Languages of Canada, to carry out his duties and responsibilities unimpeded so as to guarantee symmetrical federalism in Canada, and to promote both official languages from coast to coast to coast.