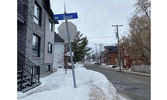 Gatineau police investigate three Aylmer incidents of air gun projectiles fired at vehicles
Sophie Demers

Gatineau Police are investigating three incidents in the Aylmer sector involving compressed air gun projectiles allegedly shot at vehicles in circulation.

On Sunday, March 12 at approximately 9pm police were called to Broad Street when they received an emergency call from the driver of a Société de transport de l' Outaouais (STO) bus. The window of the bus seemed to have been hit with a lead projectile. The driver was the only person on the bus and was not injured.

On the scene, police met a witness who saw the suspects flee. A search was conducted in the area, but no suspects were located.

Two other incidents involving taxis in the same area occurred on March 10 and 11. There were no customers in the taxis at the time of the incidents and the drivers were not injured.

This news comes after a similar incident near Mont-Bleu where shots were fired at a Société de Transport de l'Outaouais (STO). Similarly, no passengers were on the bus at the time of the incident and the driver was unharmed.

The Gatineau police invite anyone with information about these cases to contact the info line at 819 243-4636, option 5.

Photo: Broad Street sign, the road where the incidents took place.
Photo: Sophie Demers