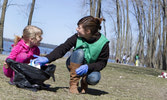 Gatineau's Big Cleanup returns for spring 2022


Gatineau's Big Cleanup (Grand Ménage de Gatineau) is an initiative by the city that aims to raise environmental awareness through action and to strengthen the sense of belonging to a neighbourhood. Gatineau holds two cleanup activities each year, in the spring and fall. With the pandemic forcing the cancellation of both cleanups in 2020 and one in 2021, the Big Cleanup is back for spring 2022. The registration period is underway.

Citizens are invited to participate in cleaning green spaces, shorelines, streets and neighbourhoods on Saturday, May 14 from 9 am to 11:30 am. Cleanups organized by schools (school component) will take place between April 22 and May 16. Each school chooses its day.

Between now and May 9, interested citizens can register online at gatineau.ca/grandmenage and choose to organize their own cleanup in their neighbourhood (community component) or to participate in the one organized by the city (citizen component). For all activities, bags and gloves will be provided by the city. In addition, wearing closed shoes with rigid soles is mandatory.

On May 14, citizens are invited to participate in the Big Cleanup at one of six locations proposed by the City, namely: Claude-Rioux Park and a section of the old railway trail (Aylmer sector), Lac-Leamy Park and Jacques-Cartier Park North (Hull sector), Sanscartier Park (Kitchissippi Marina) and La Baie Park (Gatineau sector), and Landing Park (Buckingham sector).

For the citizen component, participation prizes will be awarded and a light snack will be offered. Note that this activity will take place rain or shine.

From year to year, an average of 16,000 citizens take part in the two Gatineau Big Cleanups (spring and fall). This initiative is organized in collaboration with Enviro Éduc-Action.

For more information, citizens can visit gatineau.ca/grandmenage or call 311.