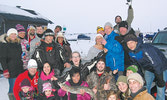 Knights of Columbus cancel the ice fishing derby for the second year

Sophie Demers
Due to Covid-19 restrictions, the Knights of Columbus will not be organizing their ice fishing derby this year.
The derby, which took place for 12 years at the Aylmer Marina, was an exciting winter event for many Aylmer residents. Approximately 240 people participated each year. Because of the pandemic, however, it is now being cancelled for the second year in a row.
The fishing derby had many prizes to be won, as well as a dinner with participants, sleigh rides, and activities for children. The money raised went to the Knights of Columbus and the work they do in the community.
According to a spokesperson from the Knights, it is unknown whether the organization will be able to continue planning this event in years to come.