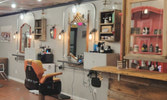 Le Locale Coiffure pour Hommes
Sophie Demers
Le Local Coiffure barber shop is located at 2 Rue Front in Aylmer. The location has been a barber shop for over 20 years but in 2019 it was purchased from the previous owners and Le Locale was established.
The barber shop offers a variety of services including haircuts, skin fades, childrens haircuts, and bear trimming and shaving.
The shop has an experienced and talented team of barbers that are committed to making their clients happy. Le Local hired July Gabe when he was brand new to barbering and trained him. He is now the busiest barber at the shop. Sean Stuart was hired as the manager in August 2020 and Alex Smith was hired in March 2022 and he has 9 years of experience.
In August, the Local was renovated to give the shop a more rustic and industrial look.
Le Local highlights that they are fortunate to have a large referral base and their clientele range from first haircuts, fathers, brothers, uncles and grandfathers. One of their passions is helping the community through charity.
Photo: Courtesy of Le Locale Coiffure pour Hommes