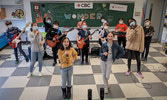 Local students participate in CBC's Music Class Challenge

Sophie Demers
Local students from École des Rapides-Deschênes are participating in the CBC Music Class Challenge, a competition that challenges music classes across Canada to learn and perform a Canadian song.
With the help of their music teacher, a group of 15 sixth grade students formed a rock band called Astro-Notes. They have been practicing for a month to be able to perform the number and create a YouTube video to enter the challenge. A performance of their chosen song "Wonder" can be found on the CBC music challenge YouTube channel.
"Music can give students a voice, and a way to express themselves. It brings joy to many students' school experience. This music challenge encourages the students to work together and create a great performance," says Patrick Sobczak, the students' music teacher at Rapides-Deschênes. Sobczak shared that some of the students had no experience with their instruments at the beginning of the year and have worked together, as well as on their own time, to learn the music.
CBC Music, in collaboration with MusiCounts, the charity of the Juno Awards, launches the Canadian Music Class Challenge every fall. The goal of the challenge is to get students to learn Canadian music, draw attention to the work of music teachers across the country, and to show the importance of music in children's education.
The top 10 in each category will be announced on December 7th and the winners will be awarded a $3,000 scholarship from MusiCounts. The scholarship will be announced on December 14th.
As for the local students in Aylmer, their musical journey continues whether they win or lose. "For us, the adventure continues, other videos and concerts will come this year. The students will continue practicing and work toward their music goals," said Patrick Sobczak.