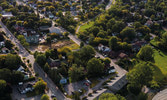 Ville de Gatineau launches new participatory Urban Planning Initiative

Old Aylmer's planning future under the microscope of the people

Greg Newing
The future of development in Old Aylmer is open for discussion. The Ville de Gatineau has recently launched a new program for Aylmer residents to participate in community consultations about an upcoming plan for the development of Old Aylmer. This initiative is part of Gatineau's "Programme Particulier d'Urbanisme" (PPU) which aims to facilitate and increase citizen engagement in urban planning through a series of online and in person consultations about the current reality and future vision for sectors across the city.
The preservation and development of Old Aylmer's attractions are particular areas of focus for this project. In their program announcement, the Ville de Gatineau underscored how Old Aylmer is one of the city's major cultural, administrative and commercial centres as well as a space that enriches the lives of all Gatineau's residents. The program aims to involve all of Aylmer in assessing the sector's current reality as well as developing a plan for Old Aylmer's future. The website for the program explains how the initiative places collective participation at the heart of a reflection on the sector's strengths and weaknesses, as well as its opportunities and challenges.
—Dates to note
As a first step, there is an online consultation platform available from June 1 to June 30 where residents can vote and comment on various proposals as well as submit their own suggestions and ideas on themes such as "heritage and attractions", "integrating new developments", "green spaces", "mobility and transportation", "cultural and commercial activities" among others. There is also an interactive map where residents can make specific location-based proposals and comments by adding a "pin" to a map of Old Aylmer along with their proposal.
In addition to the online consultations, there will be an "exploratory walk" on June 11 from 10:30 to 12 followed by an open house roundtable discussion on June 16 at 6 pm (registration is required for both of these events). These initial steps will be followed by a town hall discussion on September 11, after which a plan for the future development of Old Aylmer will be created and adopted by the municipality in Spring 2023.
How to participate
This initiative is open to all Aylmer residents. To participate, visit the "Comprendre le Vieux-Aylmer" online platform at: https://comprendrelevieuxaylmer.cocoriko.org/
In order to use the platform, you will need to create an account by clicking "Créer un compte" and following the onscreen instructions. After creating an account, you can select one of the many themes for consultation by clicking on one of the images and opening a sub-theme. Each sub-theme includes several proposals for the development of Old Aylmer on which you can vote and comment. To submit your own proposal, which can be voted for and commented on by other Aylmer residents, click the blue "Rédiger une idée" button.
To register for the exploratory walk on June 11 as well as the in person open house roundtable discussion on June 16, you will need to fill out a registration form, which can be found on the Ville de Gatineau website by clicking "Information and Services", then "Civic Activities" and opening the "Public Consultations" page. On this page you will see the link for the "Programme particulier d'urbanisme: réalisons ensemble le portrait du Vieux-Aylmer", where you can access the registration forms ("Inscription") under "Activity 2" and "Activity 3".