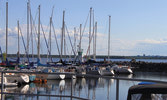 Summer sailing at the Grande-Rivière Sailing Centre

Greg Newing
The Grande-Rivière Sailing Centre, located at the Aylmer Marina, organized sailing related activities for the general public to celebrate the province-wide Fête du Nautisme on the July 9-10 weekend. The centre offered workshops on sailing knots, international maritime signal flags and marine safety, among other activities. Visitors could also take a cruise with an experienced sailor on one of the many keelboats docked at the marina. The sailing centre plans to hold similar activities next year for the Fête du Nautisme, an annual event held on the second weekend of July.
While the festival activities are over for this year, residents interested in sailing can watch races organized by the sailing club every Wednesday at 6:15 pm and longer weekend races starting at 12 pm on July 30 and August 13 and 27. Boats start at the marina and head downriver towards the Deschênes Rapids so they can be watched from shore along the bike path between the marina and the Parc des Rapides-Deschênes. The Sailing Centre will also host its annual "Festivoile" event later in the fall on the October 7 and 8 weekend where sailors from across the province will bring their boats to race on the Ottawa River.
For those who are not members of the sailing club and wish to sail their own boats, a public dock is available at the marina. Access to the dock costs $30 per day for up to five days, and there is designated trailer parking in the marina's parking lot. The sailing centre also offers boat launching services and has 12 private docks available for rent overnight from 9 pm to 10 am at $30 per night for a maximum of three nights or for four-hour blocks during the day.

Sailing Schools at the Marina
The Sailing Centre also hosts an annual Sailing School for children and youth. While the registration is full for this year with approximately 500 children and youth registered for the sailing courses, anyone interested in participating next year can register as of March 1, 2023. Separate sailing courses for adults are also offered at the sailing school with registration open from January to March 2023.
For more information on the Grande-Rivière Sailing Centre as well as information about the sailing school, visit: https://www.cvgr.qc.ca/
Those interested to learn how to sail larger keelboats can also contact the Borealis Sailing Centre, a non-profit organization dedicated to the promotion and teaching of safe sailing. The Borealis Sailing Centre operates out of the Aylmer Marina and offers lessons and intensive training on one of its two large boats. For more information on how to register, contact: info@voileborealis.org or visit their website at https://www.voileborealis.org/
Photo caption: Sailboats docked at the Grande-Rivière Sailing Centre. Photo credit: Greg Newing.